User interface for LabVIEW™
Graphical User Interface for PC for controlling OsTech devices
We provide a LabVIEW™ user interface for OsTech drivers as free software. In order to use it you need LabVIEW™ version 7.1 or later and NI-VISA™ for the communication over the serial interface. There is also an executable version of the software that can be used without LabVIEW™. The required runtime libraries are included.
Version 0.3
Changes
baud rate and address for multi-channel devices can be set
tabs for temperature sensors
temperature sensor can be assigned to TEC (if supported by the device)
the temperature plot of the TEC can be exported to a file
Screenshots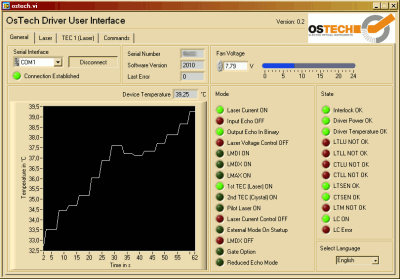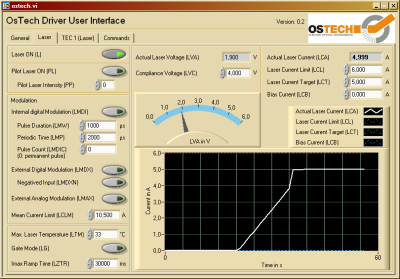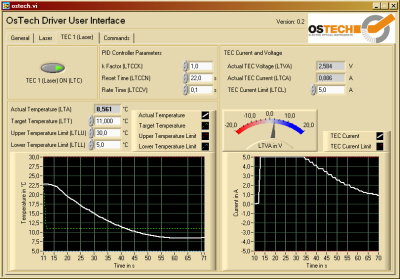 Licence
Copyright © 2008 OsTech
Permission is hereby granted, free of charge, to any person obtaining a copy of this software and associated documentation files (the "Software"), to deal in the Software without restriction, including without limitation the rights to use, copy, modify, merge, publish, distribute, sublicense, and/or sell copies of the Software, and to permit persons to whom the Software is furnished to do so, subject to the following conditions:
The above copyright notice and this permission notice shall be included in all copies or substantial portions of the Software.
THE SOFTWARE IS PROVIDED "AS IS", WITHOUT WARRANTY OF ANY KIND, EXPRESS OR IMPLIED, INCLUDING BUT NOT LIMITED TO THE WARRANTIES OF MERCHANTABILITY, FITNESS FOR A PARTICULAR PURPOSE AND NONINFRINGEMENT. IN NO EVENT SHALL THE AUTHORS OR COPYRIGHT HOLDERS BE LIABLE FOR ANY CLAIM, DAMAGES OR OTHER LIABILITY, WHETHER IN AN ACTION OF CONTRACT, TORT OR OTHERWISE, ARISING FROM, OUT OF OR IN CONNECTION WITH THE SOFTWARE OR THE USE OR OTHER DEALINGS IN THE SOFTWARE.
Earlier versions
Version 0.2.2
Changes
support for devices without pilot laser support
Version 0.2.1
Changes
improved communication error handling to fix connection problems
Version 0.2
Changes
Multi-language support (English, German, French)
New adjustable parameters (LVC, LTM, LCLM)
Fixed a bug where the programme hung up on connection breakup
"Debug" and "Send command" divided into two tabs
some minor issues
Version 0.1


LabVIEW™ is a registered trademark of National Instruments Corporation.